Please see prices on the online booking link
Sienna X, the number one choice in sunless tanning. Official spray tanning supplier to strictly come dancing & the BRIT Awards 2011 with a growing number of celebrity fans, You'd struggle to see a celebrity without one! A healthy looking tan never goes out of fashion. Whether it's for an occasion, a wedding, big party, prom night or you just fancy a 'pick me up', 30 minutes is all you need to leave you with a glow your friends will be envious of!
Is it safe?
DHA has been approved by the FDA for use in the personal care industry for over 30 years. No adverse effects have been reported other than mild skin irritation on allergic people. Allergic reactions are extremely rare and if you have experienced allergic reactions to self-tanning or other beauty products please arrange a patch test with your therapist. No sunburns, Peeling, sunstroke or sun related skin diseases.
What makes Sienna X products so great?
As well as active DHA our retail products are enriched with Aloe Vera, and other natural top quality ingredients to actively moisturise and nourish your skin. Our Tanning solutions even have a fantastic fragrance. Your tan will lastup to 5-7 days depending on your daily skincare regime and lifestyle.
A sunless tan fades just like a tan from the sun, so as your skin sheds dead cells, your tan will fade. So the key is to moisturise with Sienna X moisture balm twice daily. Our unique Sienna X extend & perfect gradual tan.
What about streaks and/or turning orange?
Your professionally trained sienna X therapist is experienced in producing non streaky tans and will ensure that the right solution is chosen for your colouring, giving you a natural sun kissed look and long lasting results.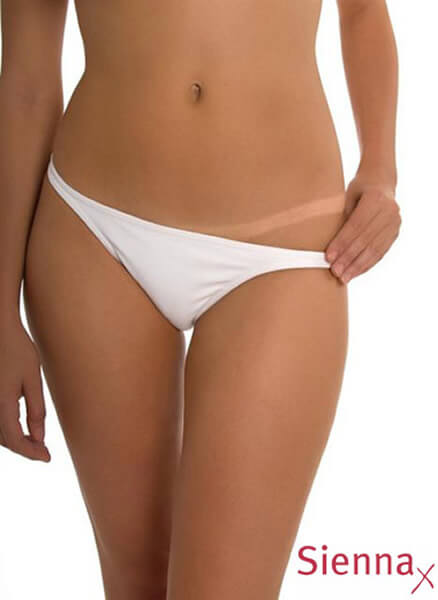 Remove any unwanted hair 48 hours prior to your treatment.
Exfoliate the night before your tan. Pay particular attention to dry areas such as knees and elbows.
We recommend using Sienna X polishing scrub.
Don't moisturise, use perfume or deodorant prior to treatment.
Remove contact lenses before treatment to avoid contamination.
Bring loose dark clothing and loose fitting shoes to wear after your spray tan. Tight clothing will cause the tan to rub off.
Leave the tan to develop for the recommended time.
Avoid excessive exercise, perspiring or getting wet during development time.
Wash until the water runs clear, we recommend using sienna x balance body wash. Gently pat dry.
Long baths or swimming will fade your tan quicker.
Moisturise daily to enhance your tan and prolong your colour. We recommend sienna x radiance body balm.
Start to exfoliate four days after your tan to encourage even fading.
Sienna X offers a wide range of natural skin colours & contains natural, nourishing ingredients which help enhance your newly-bronzed skin. As an approved stockist of the Sienna X range we can help you prepare & prolong your tan correctly for a flawless spray tan.
High Intensisty 1 Hour Spray Tan
(Can be washed off after 1 hour and develops over 8, great for those last minute nights out.)
1hr light, 2hrs Medium, 3hrs dark, 4+hrs Intense
High Intensisty 1 Hour Spray Tan
20 Minutes
(Can be washed off after 1 hour and develops over 8, great for those last minute nights out.)
1hr light, 2hrs Medium, 3hrs dark, 4+hrs Intense
| | |
| --- | --- |
| Monday | Closed |
| Tuesday | 9:15 AM — 5:00 PM |
| Wednesday | 9:15 AM — 8:00 PM |
| Thursday | 9:15 AM — 8:00 PM |
| Friday | 9:15 AM — 6:00 PM |
| Saturday | 9:00 AM — 5:00 PM |
| Sunday | Closed |
1st floor Shawhouse
Shawclough Rd
Shawclough
Rochdale
OL12 6ND